TUGRAZonline Officer
There are TUGRAZonline officers ("TUGRAZonline-Beauftragte") for almost all OUs at Graz University of Technology. These are persons with many special rights in TUGRAZonline, among other things they assign the OTPis (PINs) with which accounts can be created.
How do I find out who the TUGRAZonline officers are?
To find out who the TUGRAZonline officers for an OU are, please open TUGRAZonline. Then select the OU in the navigation tree by mouse click. In this example, Faculties → Architecture → Institutes → Urbanism.
Now a new content opens in the main window with the name of the OU as title (so in the example 1450 Institute for Urbanism).
If you select "Roles", you will get a list of persons sorted by professional functions, in which you should find the TUGRAZonline officers ("TUGRAZonline-Beauftragte*r") of this OU: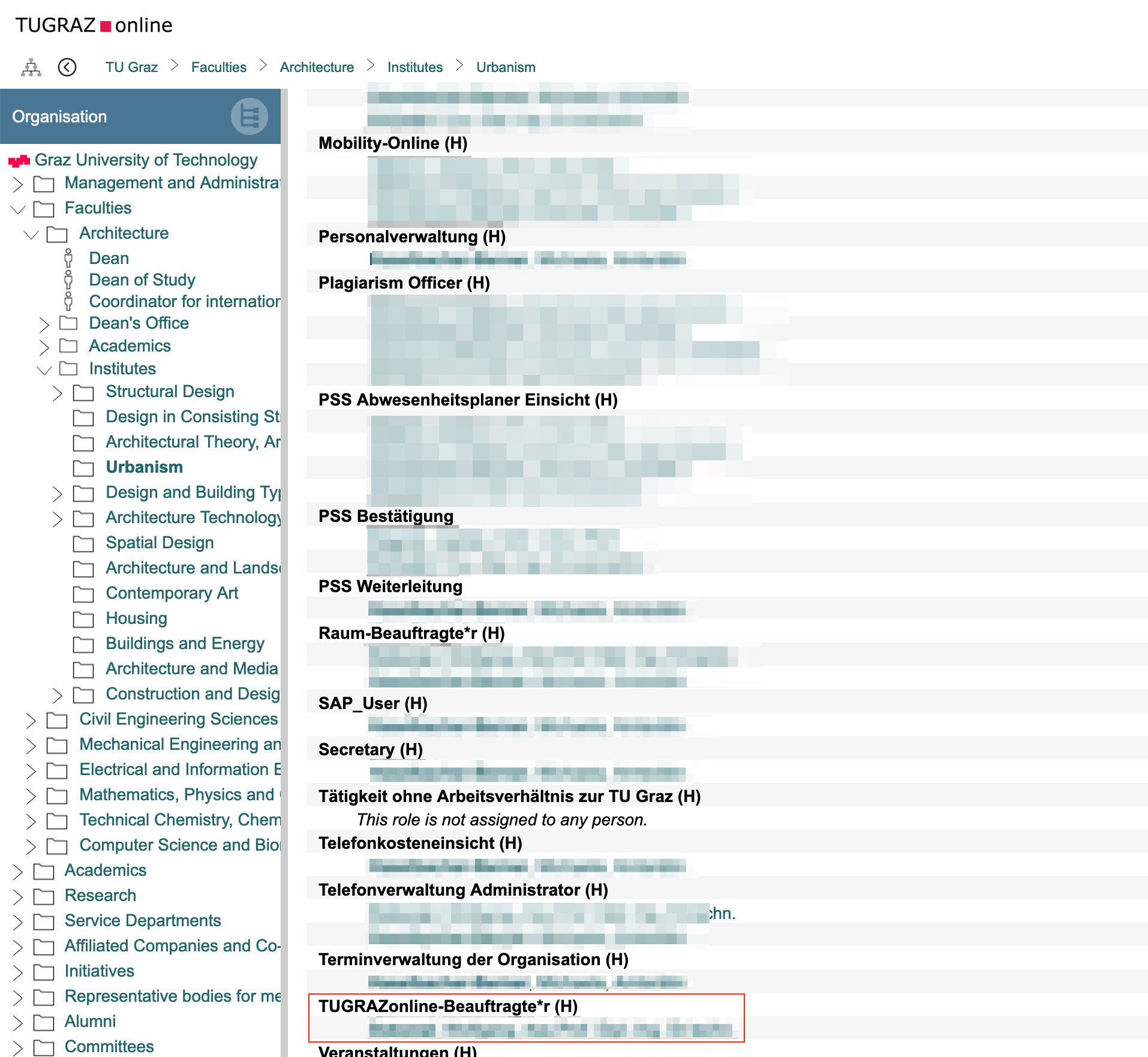 There are no TUGRAZonline officers registered or they are prevented for a longer period of time
If you need help e. g. with your TU Graz password, please contact the IT support at extension 7000.

The TUGRAZonline officers have many special rights in TUGRAZonline. The current list of these rights of the TUGRAZonline representatives can be found in TUGRAZonline under "Roles" in the section "role/application".
Excerpt of the (possible) rights:
Business Card

may edit business cards

User Management

User account setup:
Assigns OTPs to set up accounts;
may e. g. change passwords for robot accounts

Roles

may assign roles

Due to the special rights of the IT officers, they should be aware of the (data protection) responsibility and use these rights only in accordance with legal regulations, software license rights, the data protection guidelines and usage regulations and other guidelines of TU Graz.
The head of the OU should also be aware of the far-reaching rights that TUGRAZonline representatives have and therefore only assign this function in a well-considered manner!